Dance Director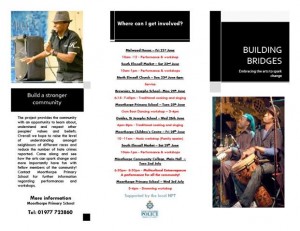 When I was asked to be involved with the Building Bridges project for the pupils of Moorthorpe Primary school and their local community of South Elmsall I was delighted.
Building brigdes was designed and intended to encourage the building of relationships via interracial understanding, racial harmony and equality. All for the good of the community, therefore the different community member envolvement was paramount; from the school children to the elderly ladies who enjoyed performing their drumming sequence. This was expressed through dance, music and drama.
My role was to have several hours with a group of children who attend South Elmsall's local dance school Sugarkanes, and teach them a short routine of African choreography to perform at the big show held at Minsthorpe Community College.
The age range of the dancers were 7 – 12 years old, and with just 2 hours to learn the routine I had to bare in mind the children were all at different levels of dance ability. I must stress that each and every child did fantastically well and did me very proud in both rehearsals and on the night. All dressed up in their African attire with face paints they looked and danced wonderfully.
As a team we used South African artform to build relationships in the South Elmsall community
The local press and the mayor attended the show so I am hoping to be able to share some images or footage with you very soon….